Meet Dr. Dana Vos
Clinical Practice Area: Sports Medicine; General Musculoskeletal Complaints
Areas of Interest: Sport-specific rehabilitation, shoulder injuries
A Goal Oriented Mind Set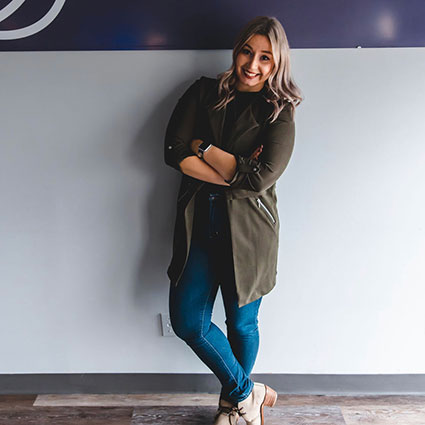 Let me start by introducing myself, my name is Dana Boos. And I love what I do. I have always had a passion for caring for people and helping people achieve their goals. Which is how I got into chiropractic. After high school, I received my Bachelor of Science in Kinesiology from the University of Alberta in 2013. Afterwards, I was still unsure of my career path, I worked as a kinesiologist for a year. And after some soul searching, chiropractic found me. So I packed my bags and moved to Portland, Oregon and enrolled in the University of Western States (UWS).
I got to experience the outdoorsy lifestyle that Oregon has to offer, while falling even more in love with Chiropractic. I graduated from UWS in 2017. During my time at the University of Western States, I concurrently received my Masters of Science in Sport Medicine.
I love working with all types of people. Whether you're a new mom, or working towards your first 5k, or you're an Iron Man triathlete, or maybe you just want to get through your day without pain, I want to get you there. I am formally trained in a variety of adjusting techniques, soft-tissue techniques, and kinesio-taping.
EXPLORE OUR SERVICES

A Few Fun Facts:
I was a dancer for ~ 20 years
I am the co-founder of the University of Alberta Quidditch team
I was in a Britney Spears musical for the Edmonton Fringe Festival
In 2012, I traveled to Nepal for 2 months for a where I worked in a women's rights organization
Outside of the Practice
Outside of work, you can probably find me sipping coffee and hanging out with my husband, Kevin, and our dog, Sloan. In summer, we like to spend our weekends hiking and camping. In the winter, we love to tear up the slopes by snowboarding.
Dr. Dana is accepting new patients!

Dr. Dana Vos | (780) 450-0555